Like many of the traditional Japanese performing arts, kyōgen is passed down orally from master to disciple. Needless to say, we have our Sensei to thank for making this art accessible to us, especially with the added challenge of moving online.
Shigeyama Sennojō III, born Shigeyama Dōji in 1983, made his stage debut at the early age of three in Mahōtsukai no deshi (The Sorcerer's Apprentice), produced by NOHO Theatre Group, which was cofounded by Sennojō's father Akira and Jonah Salz. He made his kyōgen debut in the play Utsubozaru (The Monkey Skin Quiver) shortly after. Since then, he has performed in a wide variety of performances both in Japan and internationally. Sennojō uses his proficiency in English to perform bilingual kyōgen and teach kyōgen to non-Japanese speakers. In recent years, Sennojō has continued to push the boundaries of kyōgen and expand his own artistic horizons, teaching regular workshops at the National University of Singapore and performing in productions such as Ong Keng Sen's 2016 pan-Asian rendition of Sandaime Richard and a production of Waiting for Godot at the Kanazawa Arts Theatre in Yokohama in 2019. Sennojō also writes and performs new work kyōgen plays and sketch comedies that he produces at regular Marikoji and Hyakumanben performances.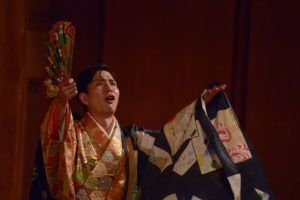 The last time Sennojō joined us in Hawai'i in 2017, we presented the English language premier of his new work play Two Mountain Priests (Futari Yamabushi). Sennojō has been an artist in residency here at the University of Hawai'i at Mānoa three times before (2002, 2007-08, 2016-17), however local kyōgen fans may more easily recognize him by his birth name, Dōji. As is standard in kyōgen families, the art is passed down orally and training of the sons is taken up by their fathers and grandfathers. In 2018, Dōji decided to honor his grandfather's legacy by taking his grandfather's name and becoming Sennojō III. This time, Sennojō is joining us under a new name, on a new platform to help us bring the joy of kyōgen into your homes in a time when we can all use a little extra laugher.
Behind the Scenes:
Shigeyama Sennojō III in rehearsal for the UHM 2016-2017 kyōgen production, Power & Folly
Sennojō Sensei shared some of his insights into the teaching process for the Power and Folly Promotional Video